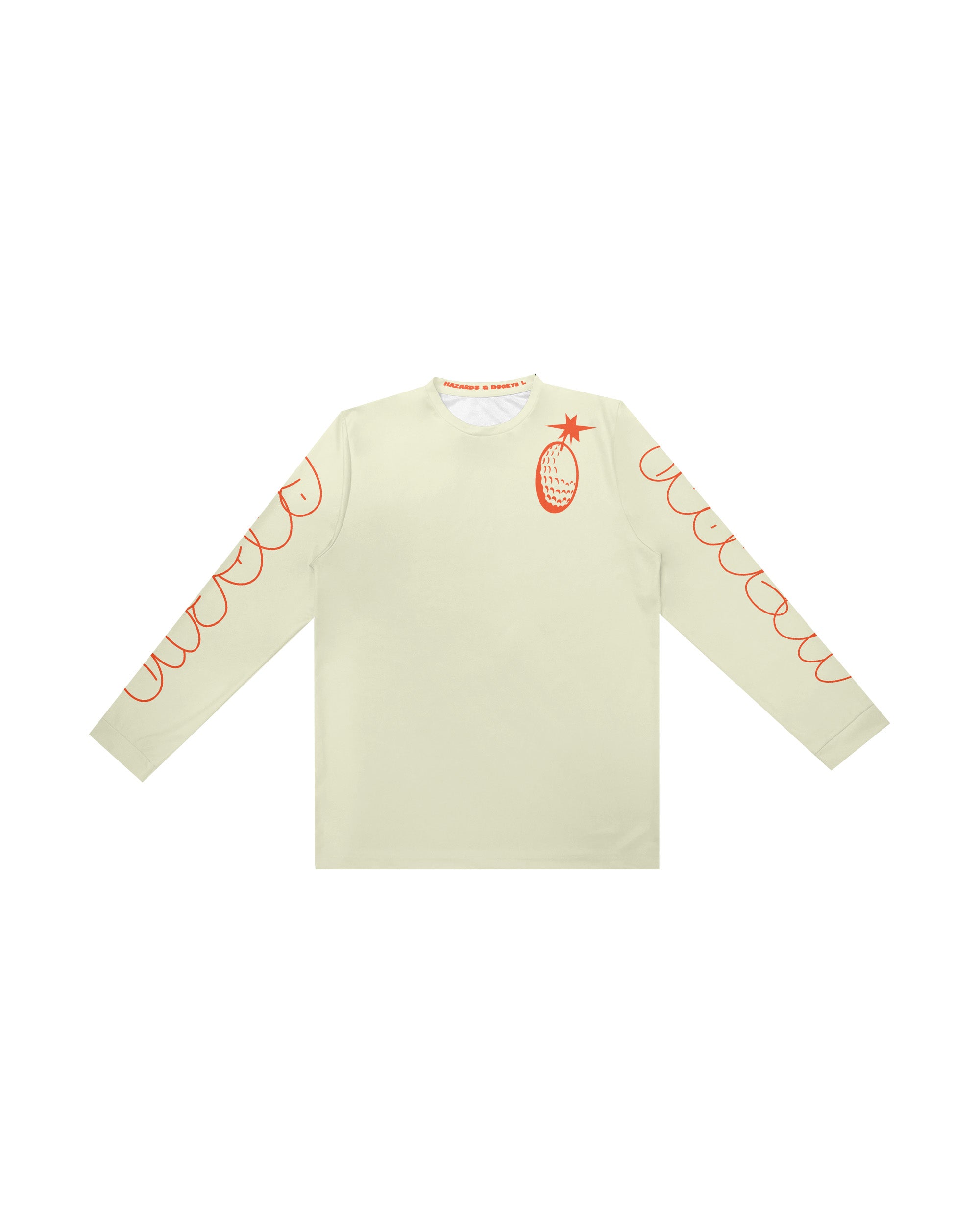 Orange Tee Box Long Sleeve Shirt
This Orange Tee Box Long Sleeve Shirt is expertly crafted with a pre-shrunk polyester-spandex blend, providing 4-way stretch retention and long-lasting color.
UPF 50 protection and MAXDRI engineering ensure comfort and durability.
Production time is estimated at 5-7 business days.
MaxDri Moisture management
Athletic fit
UV50 + 
100% Polyester + Wicking 
Made in the U.S.A
To initiate a return or exchange, please send your package back to the following address:
Hazards & Bogeys
5421 McFadden Ave Ste A
Huntington Beach, CA 92649
Once you have shipped your package, please email fore@hazardsnbogeys.com with your shipment's tracking number and let our representatives know whether you are interested in returning or exchanging your products. 
Returns:

All products must be returned in new, unused and unopened condition, with all original packaging. We reserve the right to refuse a return if the product is not in the same condition as when it was received.
Exchanges:
Items that have been opened and tried on (but are still unused) are eligible for an exchange of equal or lesser value. We reserve the right to refuse an exchange for any reason. 
Return Labels:
If the return is due to a manufacturer defect or a mistake on our part, we will provide a pre-paid return label for the customer to use.
Please note that if a return or exchange is initiated for any reason other than a manufacturer defect or a mistake on our part, the customer will be responsible for paying for the shipping cost.
All provided return labels will be automatically addressed to our warehouse at 5421 W McFadden Ave Suite A Huntington Beach, CA 92649.
Final Sale Items:
We do not accept returns, exchanges, or modification requests for any final sale item.
Gift cards are also ineligible for returns or exchanges. 
Other Important Information:
Once a return or exchange has been initiated, it may take up to two weeks for customers to receive a refund notification or tracking information for their exchange. We appreciate your patience as we process your request, which will happen as soon as we receive the product(s). 
Customers have the option to receive a refund in the form of the original payment or store credit, whichever they choose.
Please note that we are unable to accept returns of products that have been used or altered in any way.
We appreciate your business and thank you for choosing Hazards & Bogeys.
As this policy may change or be updated, please refer to our website for the most current version.
Questions regarding our return policy? Ask us at fore@hazardsnbogeys.com.